IPL Latest News 2012
[caption id="attachment_4190" align="aligncenter" width="300" caption="Indian Premier League - IPL5 2012"]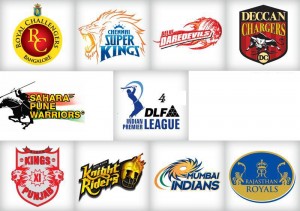 [/caption] 1st century in IPL 5 2012(15-04-2012) [caption id="attachment_4580" align="aligncenter" width="187" caption="Ajinkya Rahane in 1st century IPL 5 2012"]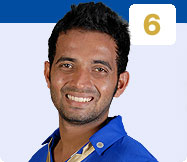 [/caption] Ajinkya Rahane (Rajasthan Royals)is the Man of the Match for his unbeaten 103 off just 60 balls. Ajinkya Rahane (Rajasthan ) - is Hitting 103R/60B (12 fours, 5 sixes) against Royal Challengers Bangalore in IPL 5 2012.Ajinkya Rahane Playing wonder fulling innings He Hitting continuous fours in 1 overs.
1 Sreenath Aravind to Rahane, FOUR, Rahane shows the full face of the bat and slaps it past the bowler for a four, brilliant timing!
2 Sreenath Aravind to Rahane, FOUR, 2 in 2, exact replica of the previous shot but slightly straighter this time, punches it past the bowler
3 Sreenath Aravind to Rahane, FOUR, short, Rahane bends and scoops it high over behind the keeper and gets a boundary for that, top shot!
4 Sreenath Aravind to Rahane, FOUR, slower ball, Rahane pulls it over midwicket and off it goes racing away to the boundary off one bounce, 4 in 4!
5 Sreenath Aravind to Rahane, FOUR, full toss, Rahane makes that 5 fours on the trot, cover drives it elegantly
6 Sreenath Aravind to Rahane, FOUR, 6 fours off that over, this time he waits till the ball gets to him and guides it to the third man boundary, what an over that turned out to be!
Rajasthan Royals 195/2 vs Royal Challengers Bangalore 136 (20ov), Rajasthan Royals won by 59 runs Mumbai Indians win off last ball -(09-04-2012)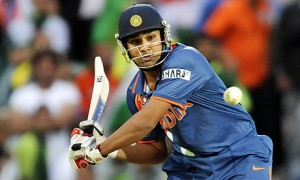 Mumbai indian winning match the last ball of twenty overs against Deccan Chargers .Deccan Chargers made runs 138/9 in (20 ovs).Mumbai indian made runs 142/5 (20.0 ov).Mumbai won by 5 wickets. Rohit Sharma Wonder full inning against Deccan Chargers. He is hitting in last ball SIX, Mumbai Win, Game Over! Rohit Sharma does it for Mumbai again in IPL.Rohit Sharma (Mumbai Indians)made runs 73 only 50 balls . He is hitting 4 fours and 5 Sixes in IPL5 match number 9.Rohit Sharma also provide Award Man of the Match and Maximum Sixes Award. Rajasthan Royals pleyer award to Orange cap and purple cap Both Player of Rajasthan Royals wearers Orange cap and purple cap. Orange cap get, At now IPL5 2012 player Most Runs Ajinkya Rahane.and Most Wickets Kevon Cooper.Ajinkya Rahane Top of scores runs (98 runs ) in 2 match. and Kevon Cooper Most wickets 7 only 2 match Ajinkya Rahane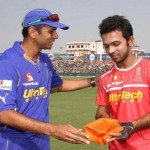 LEADING RUN SCORERS IPL 5 Cricket 2012
Players
Match

Inningg

Runs
Best
Ball Faced
100
50
4
6

AM Rahane(Rajasthan )
Kevon Cooper [caption id="attachment_4468" align="aligncenter" width="150" caption="Kevon Cooper"]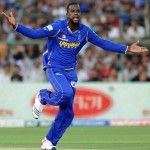 [/caption]
LEADING WICKET TAKERS In IPL 5 2012
Player
Mat
Inns
Overs
M
R
Wkts
BBI
Ave
Econ
4
5

K Cooper(RR)

2

2

4.0

0

54

7

4/26

7.71

6.75

1

0
Ravindra Jadeja Played Both Bat & Ball(o7-04-2012)
Jadeja of Chennai Super Kings is playing very well .Jadeja is playes all rounder (both bat & ball). he is made 48 Runs / 29 ball ( 3 fours and 3 sixes) and 5 wickets agianst Deccan Chargers .he got Man of the match in IPL 5 2012(Match No. 6). At now Chennai Super Kings 193/6 (20/20 ov )agianst Deccan Chargers 119 (17.1/20 ov) in IPL-5 2012. Ravindra Jadeja first time taken 5 wicket 4 overs and spend only 16 runs).Super Kings won the match by 74 runs
IPL 5 2012 auction KKR (Kolkata team) to buy to New Zealand's Brendon mccullum $9 million Chennai Super Kings bought to Jadeja Ravindra 9.20 million RCB bought to Muralitharan $220,000. Delhi Daredevils bought to Jayawardene $1.4 million Rajasthan Royals bought to Brad Hodge $475,000.
-----+++++++++++---------
Sahara ties with India and the IPL (Indian Premier League)-04-02-2012 New Delhi. Sahara in India cricket and the IPL Pune team decided to end sponsorship.Sahara India and the Indian cricket team IPL Pune Warriors team has decided to end sponsorship.IPL Chairman and BCCI vice president Rajiv Shukla said that the IPL auction of cricketers will be scheduled accordingly. Support to the BCCI said that finding new sponsor for the team may take two to four months and then we will continue to team sponsorship money. In addition, IPL Mumbai team players, coaches and other colleagues will get the money this year. If these players do not get a chance to play even if they get the money. The resort said in a statement, Our association with India's early emotional and so it was over. It is an honor for the entire Sahara India Pariwar. Was not much money in cricket in 2001 but now it has become the religion of our country.
-----+++++++++++---------
IPL-5: Jadeja may appear high price at auction - 04-002-2012 Bangalore (Karnataka) IPL - 5 of 144 players for the 11 Countries of the auction process will begin on Saturday. Indian all-rounder Ravindra Jadeja in the auction, Fast Bolwer R. Vinay Kumar (India) ,Wicket-keeper batsman Brendon McCullum (Kiwi Player), and Sri Lankan batsman Mahela Jayawardene to the bid is expected to take. Only Eight Indians Player, including VVS Laxman will join the auction. Ravindra Jadeja, Brendon McCullum, and Jayawardene Muttiah Muralitharan has been identified in the Top list of players auction. This class will be the first player auction. These players have the lowest base price Jadeja, who is close to $1 million doller . Yet Jadeja auction is expected to be the most demanding. Mumbai Indians, Pune Warriors, Royal Challengers and Delhi Daredevils to alarounder teams would like to have. 95 thousand USD in Kochi Tskr on Jadeja purchased for up to $ 1.2 million is expected to take bids. According to sources, the bid may exceed the amount of $1.5 million. Teams from 33 to 30 ( 3 players extend )the number of players allowed, but the franchise teams probably are not more excited to extend its balanced team. Just as with the franchisees are expected to spend the Maximum amount of $20 million. McCullum IPL-1 but failed to repeat that performance, but are able to destroy any bowling attack. Kolkata Knight Riders (KKR) and Rajasthan Royals New Zealand's star player can bid. Formula linked to the franchise, said Ravindra Jadeja exciting players. He can make a great batting and bowling with top fielder. If he sells at $ 15 million so I would not be surprised. " R. Vinay Kumar failed to buy last year's team could buy time to the swing bowler who can bat in the order. Pune Warriors team is showing interest in the request.
-----+++++++++++---------
Reference: News paper, Internet, Magazines,
Reference: Newschannel,wikipedia,newspaper,sports tv